Peabody officer arrested, accused of being drunk on duty
Staff writer
A part-time Peabody police officer accused of being drunk on duty was arrested Saturday evening by sheriff's deputies and stripped of his badge by Peabody's police chief.
According to Sheriff Jeff Soyez, officer Chad L. Voth summoned deputy Landis Goodman around 7:45 p.m. to help him search a 2019 Chevrolet Silverado that Voth had stopped at Prairie Lawn Rd. and US-50. The truck's driver was from Wichita.
While searching the vehicle, Goodman smelled alcohol coming from Voth, who according to arrest records is a 49-year-old Hillsboro resident. Salary records also list a Chad L. Voth in 2021 as a lieutenant with the fire department and emergency medical service in Newton.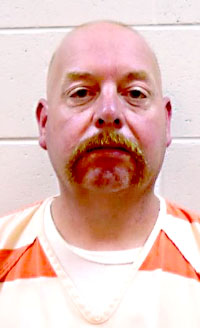 Chad Voth
booking photo